Fidalgo joins panel on drinking water quality in Missouri
December 20, 2022
A Mizzou engineering faculty member lent her expertise to a discussion on public drinking water quality in Missouri last week.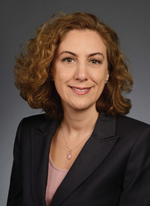 Maria Fidalgo, an associate professor of civil and environmental engineering, joined the other panelists for the roundtable discussion organized by the Most Policy Initiative. MOST is a nonpartisan nonprofit based in Jefferson City that provides research services for state legislators. The event was part of the organisation's monthly discussion series, which brings together researchers, practitioners and parliamentarians to discuss relevant topics.
For Fidalgo, the virtual discussion provided a good opportunity to remind Missourians that the university is committed to issues relevant to their daily lives.
"From my point of view – from the side of science and the university – just letting the community know that we have these initiatives is important," she said. "Our research is related to real problems like the drinking water issues in Missouri. We are engaged and working to improve water quality.
In particular, she pointed to the Missouri Water Center, an interdisciplinary initiative launched last year to pull together resources and expertise around water resources. The Center allows faculty to take a holistic approach to water issues as they relate to health, the environment, and the economy.
The panel discussion also provided an opportunity for citizens to ask some basic questions about the safety of public drinking water and how to access water quality reports.
Other panelists were Charles Miller of MO Confluence Waterkeepers, a water-focused conservation organization, and Deborah Rice-Carter from A Red Circle, a community advocacy organization in St. Louis.
Learn from experts in their field. Apply to Mizzou Engineering,