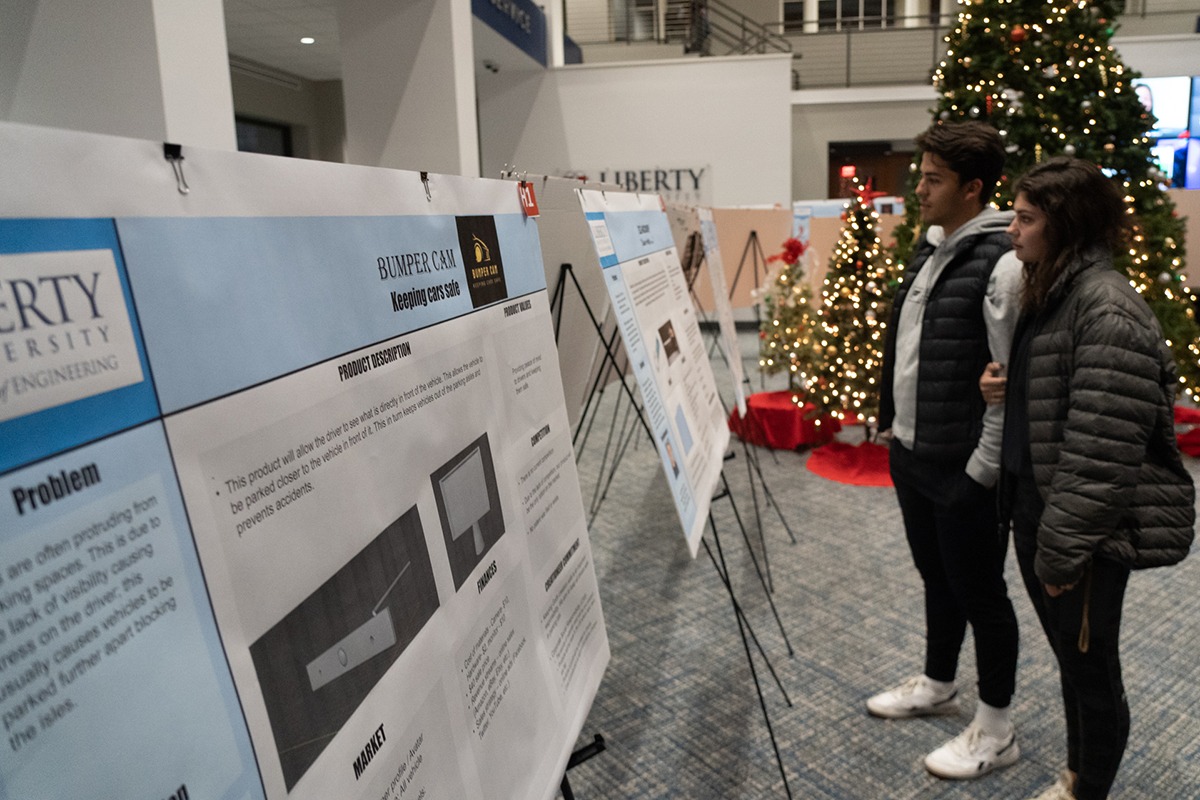 Developing successful business models for engineering inventions requires partnership and collaboration, which is what CREATE Fest this week at Liberty University is all about.
On Thursday, student teams from Assistant Professor Mark Jantomaso's Introduction to Engineering (ENGR 102) class displayed posters of their innovative project ideas in the School of Business atrium. Fellow students and faculty members will vote on the top 10 ideas, and the winner will advance to a "Shark Tank" style pitch competition on Friday night. Judges include Dr. Jeff Cohu, director of the Center for Entrepreneurship and Innovation at Lipscomb University in Nashville, Tenn., as well as the founders of two local businesses, Rookies and Bacon Street Bagels, Liberty alumni Jordan and Holly Nickerson.
Projects range from a thermos with battery-powered refrigeration to a bike brake design that uses a magnetic field to create vertical torque that opposes the wheel's motion, a dual car phone holder / a magnetic phone connector With charger, magnetic hands-free light sized for mechanics to use in small spaces for a coin.
Mechanical engineering sophomore Nathan Child worked with classmates Connor Campbell (second) and Josh Brummel (freshman) on an eraser invention for a dry erase board. Their eraser, attached to a marker, holds the cleaning solution and acts like a sponge for better cleaning. The eraser is removable and washable.
"I loved the opportunity to really apply the knowledge that we're learning and going to learn to create a project like this," Child said.
Campbell said: "It's incredible that we as newcomers with no experience still have an opportunity and a chance to build a product and make money off of it. I don't know any other place that does something like this." It does, especially for newbies."
Create Fest was designed to inspire students from diverse backgrounds to engage in conversation and co-laboration to transform ideas and concepts into marketable inventions.
"We are trying to create a synergy between engineering and business and anyone on campus who has an idea we can bring that creative technical element to," said Jantomasso, who is the student leadership development director for the School of Engineering. Acts as consultant and laboratory manager. as well as a mentor in the School of Business' Center for Entrepreneurship. "I want[business students]to listen to their pitches and ask them questions … give them feedback based on what they're learning in the business world, whether it's marketing or promotion or research. Then, they give them Can help with business strategy, sales, accounting, so all different backgrounds and gifted students are working together."
Another campuswide Create Fest pitch competition is scheduled for March 30-31.
"This (the weeklong event) is a prototype to see what it might look like, because we want to go much bigger in the spring," said Joshua Altice, an engineering student who helped organize Create Fest. "For this semester, the only people who have been able to compete are engineering students. But in the spring, we want it to be not just engineers, not just business students. We want there to be music students "We want there to be medical students. We want it to be anybody from across campus who has an entrepreneurial idea."
The School of Engineering and the School of Business have worked to provide more opportunities for entrepreneurial training. This fall, the School of Engineering introduced a new area called the "Creating Cafe," where students can brainstorm creative concepts and inventions and the department can conduct workshops. The school has trademarked the term "Creationeering", which focuses on applying engineering concepts through lessons from God's own designs in nature. During Create Fest, the CreateNearing Cafe offered a drink station to raise money for potential student scholarships.
In the spring, students from all academic disciplines will have the chance to enroll in a new, free online course on entrepreneurship, developed with the help of Liberty alumni and real estate business brothers David and Jason Benham, through a Will advise entrepreneurship based on brotherhood. Video series. The course is a prerequisite for any participant in the Spring Create Fest pitch competition.
"Creation involves entrepreneurship, but it is much more than that," said Jantomasso, who helped develop the curriculum. "It's science and engineering. It's 'Pray, Think, Create'. It's a completely different mindset.
"As Christians, we believe that the Creator inspires us to create," he said, noting that there is a big difference between an entrepreneur and a state entrepreneur. "Kingdom entrepreneurs do everything they do to connect God to those who are apart from him, so we can glorify God in everything we do."
The School of Engineering also launched a Minor in Technology Entrepreneurship this fall, where students can take projects from conceptual models to actual prototypes by their senior years.
School of Business Professor Dr. George Young said, "Senior capstone presentations are going to be more through the lens of business, but then you highlight your engineering skills (and) it's going to add a lot of value to your degree." Is." Who helped the minor develop. "When you graduate, in your engineering firm you are going to be an entrepreneur in a corporate setting. You are going to be building products and solutions for companies and they are going to generate revenue, so the better you And look at those techniques and methods, then you can use that brilliant mind that God has blessed you with to create those engineering solutions.